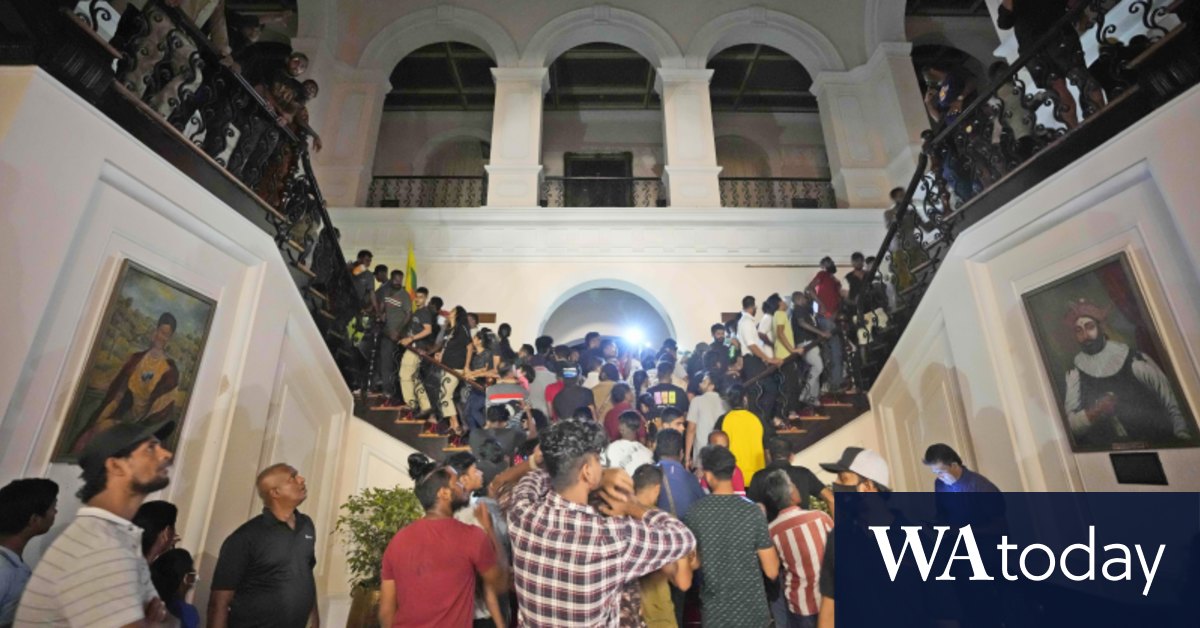 Anti-government protesters storm president's home, disrupt Australian cricket match and clash with police
Throughout the day, soldiers and police could not hold back a crowd of protesters chanting for Rajapaksa's resignation and blaming him for the country's worst economic crisis in seven decades.
Neither Rajapaksa nor Wickremesinghe were in their residences when the buildings were attacked.
Inside the president's home during protests on Saturday, a Facebook live stream showed hundreds of protesters, some draped in the national flag, crowding into rooms and hallways.
Video footage showed some of them splashing around in the pool, while others sat on a four-poster bed and sofas. Some could be seen emptying out a chest of drawers in footage widely shared on social media.
Hundreds of people thronged the grounds of the whitewashed colonial-era residence, with few security personnel in sight.
Rajapaksa had left the official residence on Friday as a security measure ahead of the planned weekend protest, two Defense Ministry sources said.
Loading
Reuters could not immediately confirm his whereabouts.
Later on Saturday, video footage on local news channels showed a huge fire and smoke coming from Wickremesinghe's private home in an affluent neighborhood of Colombo. His office said protesters started the fire.
There were no immediate reports of injuries in the fire. Wickremesinghe had moved to a safe place, a government source told Reuters earlier in the day.
At least 39 people, including two police officers, were injured and hospitalized during the protests, hospital sources told Reuters.
The country is grappling with a severe shortage of foreign exchange which has limited essential imports of fuel, food and medicine, plunging it into the worst economic crisis since independence in 1948.
Soaring inflation, which peaked at 54.6% in June and is expected to reach 70% in the coming months, has put the population under severe strain.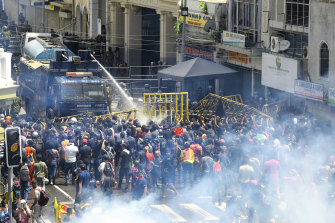 Speaker of parliament Abeywardena said in a letter to Rajapaksa that several decisions were taken at the party leaders' meeting, including the resignation of the president and prime minister as soon as possible and the parliament called within seven days to choose an interim president. .
"Under the interim president, the current parliament can appoint a new prime minister and an interim government," the letter released by the president's office said.
"Then, within a specified period, an election can be held for the people to elect a new parliament," he added.
Leaders of several opposition parties have also called for Rajapaksa's resignation.
"The president and the prime minister must resign immediately. If this does not happen, political instability will worsen," Sri Lanka Freedom Party leader and former president Maithripala Sirisena said, speaking before Wickremesinghe tendered his resignation and ahead of the news the president was planning. to resign.
Political instability could undermine Sri Lanka's talks with the International Monetary Fund as it seeks a $3 billion bailout, restructuring of some external debt and raising funds from multilateral and bilateral sources to ease dollar drought.
In April, Sri Lanka announced it was suspending foreign loan repayments due to a shortage of foreign exchange. Its total external debt stands at $51 billion, of which it must repay $28 billion by the end of 2027.
Reuters and AP