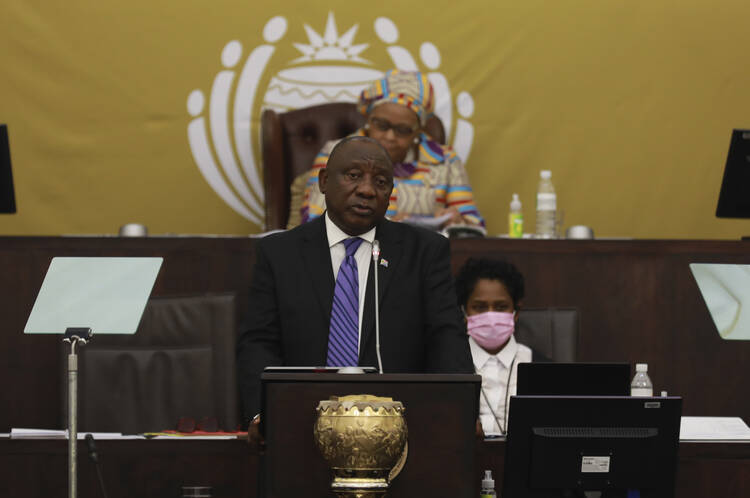 Corruption and incompetence plague the ANC: Liberation lost in South Africa?
It was hailed as a liberation movement under revered South African President and global political icon Nelson Mandela. Today, as the party leading an increasingly dysfunctional and corrupt government, the African National Congress seems destined to follow the ruinous path of other liberation movements in Africa.
The country's current president, Cyril Ramaphosa, is suspected of corruption after it was revealed that millions of cash had been stolen from his private game farm. Instead of calling the police to report the crime, Mr Ramaphosa tried to hide the theft from the South African public, raising questions about possible tax evasion and money laundering. The scandal, dubbed #farmgatenow threatens its political survival.
But the emerging scandal is just the latest example of dysfunction within the ANC Critics like political scientist Ralph Mathekga warn that corruption and incompetence have become endemic within the ruling party, contributing to a massive breakdown of basic services. And when basic services fail, says Dr Mathekga, democracy also breaks down.
The Farmgate scandal is the latest example of dysfunction within the African National Congress. Critics warn that corruption and incompetence have become endemic, contributing to a massive breakdown of basic services.
Chief Justice Raymond Zondo released the final part of a State Capture Commission report on June 22. The Judiciary Committee had been set up to investigate rampant corruption among officials and allegations that former President Jacob Zuma allowed the powerful Gupta family to access public funds and interfere in political appointments, by promoting nominees to regulatory committees that would further their business interests.
The Guptas fled the country when the commission began its investigation, but criminal charges were brought against them. In early June, brothers Atul and Rajesh Gupta were arrested in Dubai.
Serious allegations of corruption had been swirling around Mr Zuma for years before other ANC leaders pressured him to step down in 2018. Now multiple accusations of criminal activity have been filed. brought against him. The former president is accused with the French arms company Thales of political influence peddling and corruption in the context of a 2.5 billion dollar arms contract concluded in the 1990s.
The corruption investigation report further implicates Mr. Zuma and his son, Duduzane Zuma. He describes Duduzane Zuma as an "intermediary" between the Gupta family and the South African government led by his father.
The former president has spent the past four years defying the criminal justice system, maintaining an ongoing political and legal battle to escape accountability. He was jailed for 15 months in 2021 for contempt of court but never served his full sentence.
Corruption allegations had been swirling around former President Zuma for years before other ANC leaders pushed him to resign in 2018. Now, several charges of criminal activity have been leveled against him.
The ANC is split into a number of factions – and a large faction includes supporters of former president Mr Zuma. Mr. Ramaphosa remains politically weak within the party.
When he took over from Mr Zuma, Mr Ramaphosa, who had been Mr Zuma's deputy, promised a "new dawn" – that he would be tough on corruption.
Instead, he retained many former ministers from Mr. Zuma's cabinet. Many of these ministers also face allegations of corruption.
In South Africa, when a political party wins a general election, the internally elected chairman of the party becomes the president of the country. Mr Ramaphosa won the ANC presidency in 2017 by a narrow majority.
One wonders now why Mr. Ramaphosa had so much money in his private residence. Has it violated exchange control rules? Under South African law, foreign currencies cannot be used as legal tender – except among agents of the country's tourism industry within strict limits – and they cannot be sold, transferred or assigned without legal tender. permission of the National Treasury.
The regular disruptions in electricity and water supplies and the country's crumbling infrastructure are signs of South Africa's decline. Transport, education, police and health services have reached breaking points.
The country's largest opposition party, the Democratic Alliance, has approached the US FBI to investigate the money laundering allegations against Mr Ramaphosa. The president claims to have received the money stolen from his game farm through the sale of wild animals.
A corruption charge has been brought against Mr Ramaphosa by former spy chief Arthur Fraser, who is also accused of allowing public funds to be misused for personal gain. Mr. Fraser is also an ally of Mr. Zuma. He was the official who granted him so-called medical parole after he was jailed for contempt of court. A court ordered that his parole was illegal and that he should return to prison. Mr. Zuma has managed to avoid this so far.
One of the results of South Africa's worsening political crisis has been the collapse of much of the country's infrastructure. The ruling party is embroiled in fierce factional infighting. Distracted by this struggle for political power and survival, many ministers in Mr Ramaphosa's cabinet have done little in the way of governance and control.
The regular disruptions in electricity and water supplies and the country's crumbling infrastructure are signs of South Africa's decline. Transport, education, police and health services have reached breaking points.
The country's vast railway system has been completely vandalized and its resources plundered. Millions of South Africa's poorest citizens depend on rail to get to and from major cities for work, and the system is used to transport goods within coastal ports. Today, most of the country's rail network is unusable. Some analysts say privatization may be the only way to restore the network, but it could mean many poor people won't be able to afford the service.
Many rural schools in the country are also unsuitable. Little work has been done to improve rural facilities. A number of children have died after falling into 'pit latrines' in recent years, and more than 3,000 schools in some of the poorest parts of the country still lack adequate sanitation facilities. The ANC-led government has failed to deliver on its promises to ensure that this fundamental right of all children to education is respected.
South Africa was a beacon of hope for the world in 1994 when apartheid was defeated and a democratic era began. It's hard to find much to look forward to now.
In mid-June 2022, the Office of the Auditor General announced that only 41 of South Africa's 230 municipalities had received satisfactory audits. The office said the financial situation of 28% of these local governments was so deficient that there was "significant doubt" about their ability to continue operating. Municipalities in South Africa are responsible for most of the social services provided to the country's poorest. In many municipalities, the roads are full of potholes and garbage is not picked up. Many small municipalities are struggling to cope.
Police Minister Bheki Cele recently released crime statistics for the first quarter of 2022. Compared to the same period in 2021, the murder rate in South Africa has increased by 22%. The rate of murders of women rose by 71% and that of children by 37%. The country's security services have suffered budget cuts and political interference, and inexperienced officers have been placed in key positions, eroding the integrity of the police and their ability to fight crime.
Health services have also deteriorated sharply. A pediatrician from Johannesburg, Tim DeMayer, recently wrote an open letter in which he describes the appalling conditions at the Rahima Moosa Mother and Child Hospital in the country's financial hub, Johannesburg. Dr De Maayer described neonatal incubators shut down due to power outages and surgeons attempting complicated procedures using only cellphone light after power went out in operating rooms. A few days after denouncing these conditions, he was suspended by the administrators of the hospital. A public outcry led to his reinstatement.
South Africa was a beacon of hope for the world in 1994 when apartheid was defeated and a democratic era began. It's hard to find much to look forward to now.
Despite numerous promises from the party leadership, the ANC seems unable to reform itself. At the same time, there does not appear to be a viable political alternative to the discredited party.
The church was not a passive spectator in the struggle against apartheid. Many South Africans say their social conscience was formed and energized by the church's participation in the resistance at that time.
Since 1994, however, the church has also retreated and today remains silent in the face of rampant political corruption and decadence. It is as if the church, too, does not know what to do to respond to the many crises in South Africa.
South Africa must reinvent itself, says Sizwe Mpofu-Walsh, a prominent political analyst. He warns that the government's many failures "now border on a humanitarian catastrophe, so deep are the devastations and depredations on which they rest".
Democratic liberation in South Africa is threatened today by the very party that won that hard-fought victory.