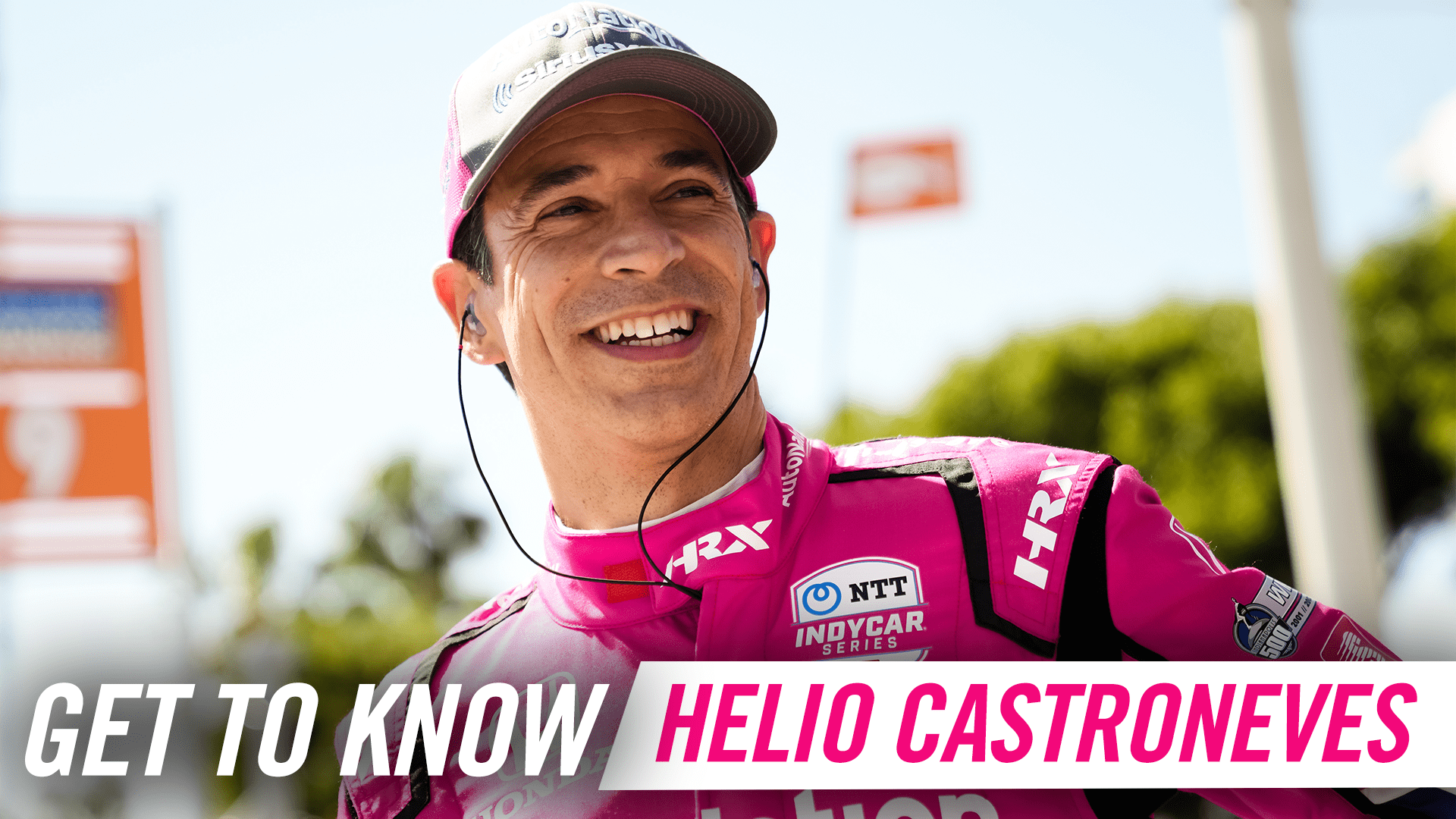 Get to know: Helio Castroneves #06 – Meyer Shank Racing, Indy 500
Before they waltzed to a "Dancing with the Stars" crown on ABC, Helio Castroneves' feet roamed the "red-footed" clays of Ribeirao Preto, Brazil.
It was there, in a town the size of Indianapolis on the edge of the Brazilian sugar cane fields, that he fell in love with motor racing.
Born Helio Alves de Castro Neves on May 10, 1975 in Sao Paolo Brazil, his family settled shortly after in agricultural zone 150
miles north. His mother, a former teacher, instilled the virtues of education and discipline in young Hélio and his older sister Kati. His father had worked in the automotive industry, but moved the family north in pursuit of a career in a small construction company.
What was building inside the little Hélio was a racing fascination. There, in the land of sugar and coffee crops, Hélio felt the need for speed. Introduced to the sport by watching his father's stock car hobby, at age 11 Helio had his own kart.
His kart races took him back to Sao Paulo on the weekends, his mother imploring the importance of education while his father cultivated Helio's driving prowess. He competed with the best karters in Brazil: young talents like Felipe Giaffone, Bruno Junqueira and Tony Kanaan.
By age 13, he had shown enough promise to, with his mother's reluctance, become home-schooled while channeling increased energy into running.
Energy is omnipresent. He doesn't turn to sugar or coffee to get it – Castroneves only enjoys the occasional latte. Rather, it simply starts each day with a mindset. "If you wake up tired and lazy, your whole day will be like this," he says.
You know the story of his career. Four Indianapolis 500s. Four stick Indy 500s. Stardom in American culture.
However, things were not always so clear. He simplified his surname of Castro Neves to eliminate the possibility of association as simply Neves or Castro. He competed in 4 racing series before landing full time in IndyCar and in 2009 was acquitted of US tax evasion charges.
Today, his daughter Mikaella is the apple of his eye, although Castroneves admits parenthood is a much tougher role than he ever imagined. The best part, he admits, is telling "dad jokes." Helio Castroneves. The man who likes to make you smile.
Twenty years ago, he won his second Indy 500 in as many attempts. Afterwards, his mother – who instilled in him the virtues of discipline and understanding – tearfully embraced the boy she had once been reluctant to let run. Above the roar of the crowd, he could be heard tearfully repeating a phrase in their native Portuguese: "Voce e' o melhor!" Voce e' o melhor!".
"You are the best! You are the best!"