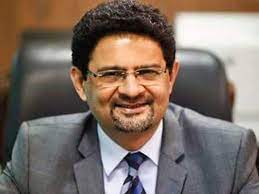 No help needed with 15% exports, tax-to-GDP ratio: Miftah Ismail
LAHORE: Federal Finance and Revenue Minister Miftah Ismail said on Saturday that if Pakistan increases its tax to GDP ratio and exports to GDP ratio by up to 15%, the government would not have need to seek help from the world.
Addressing the business community here at the Lahore Chamber of Commerce and Industry (LCCI), he said that currently the tax to GDP ratio stands at 9.5%. Pakistan's exports were US$31 billion while imports were US$80 billion. No country can afford such a large trade deficit, so we must control unnecessary imports, he added.
Miftah Ismail said that the government ensures the provision of 100% facilitation to the export-oriented industry with the aim of improving the country's overall exports.
Federal Board of Revenue (FBR) Chairman Asim Ahmad, LCCI Chairman Mian Nauman Kabir, Senior Vice Chairman Mian Rehman Aziz Chan and Vice Chairman Haris Ateeq, former board and executive committee members were also in attendance, while State Bank of Pakistan (SBP) Governor Jameel Ahmad attended the meeting via Zoom.
The finance minister said that when the government came to power in April 2022, there was a serious threat of default as foreign exchange reserves were at US$10.5 billion while US$36 billion was needed to repayment of debt and other expenses, therefore a difficult decision, based on the realities on the ground. , were needed to avoid the default. He said that no international financial institution lends to countries that do not have three months of foreign exchange reserves.
On the removal of subsidies on petroleum products and electricity, he said, it was an IMF condition and was necessary to get Pakistan's economy back on track. He said Pakistan's default risk had evaporated due to tough decisions such as higher energy prices and reduced imports, which reduced demand for foreign currency. He said that currently, taxes of Rs 7.5 per liter and Rs 37.5 per liter were imposed on diesel and petrol respectively.
Miftah said unfortunately the industry could not grow at a pace which was necessary added that power generation doubled from 13,000 MW to 25,000 MW in 2013-2018 but industrial production did not not increased enough to consume this energy and increase the country's exports.
He said the unit production cost of the Jamshoro power plant was Rs 59 which rises to Rs 78 after passing on to consumers. Miftah said the government only passed on the cost of fuel and LNG to consumers.
The Minister of Finance directed President FBR and Governor SBP to consider the suggestions presented by the LCCI and create an enabling business environment. He had asked the leading men to hold meetings with representatives of LCCI.
Miftah Ismail said estimates of flood damage amounted to US$18.5 billion. He mentioned that 6,500 km of roads, 246 bridges, 1.7 million houses were destroyed. One million animals died and 1,300 people lost their lives in the natural disaster. All the cotton in Sindh had been destroyed and had to be imported and two-thirds of the rice crop had also been destroyed.
He said the government alone could not overcome such huge losses due to floods and torrential rains in the country, so the wealthy and affluent people especially industrialists and businessmen especially from Karachi, Lahore, Faisalabad, Sialkot, Rawalpindi and other major cities are expected to come forward to help and support those affected by the floods.
LCCI Chairman Mian Nauman Kabir said that due to the economic uncertainty, the private sector is facing many problems, rising production costs for industry, manufacturing and agriculture, as they relied heavily on imports of raw materials, components, machinery, oil, foodstuffs and fertilizers, etc.
Regarding the SBP's request for prior approval for the importation of machinery under Chapters 84 and 85, he said that the holding of shipping documents by commercial banks has a negative impact on business operations and also resulted in undue demurrage charges due to delays in obtaining the required approval.
He also pointed to the issue of demurrage charges which were seriously hurting the business community, saying the matter was still pending and needed to be addressed as a matter of priority. Any decision to waive demurrage must be applied at all levels, including private shipping companies, he demanded.
The LCCI Chairman said the Ministry of Finance should take concrete steps to permanently address the long-standing problem of the misuse of tax exemptions by FATA/PATA-based industries, which has led to a strong tax evasion. Once these exemptions expire in June 2023, they should not be renewed.
He said that following their continuous complaints, the concerned authorities informed them that strict measures were being taken against the banks for exploiting the business community to demand 10 to 15 rupees in addition to the dollar interbank rate for the release of documents. import.
Mian Nauman Kabir said LCCI should be represented on the various boards under the Ministry of Finance. To reduce reliance on textiles, he recommended giving special tax incentives to other potential export sectors of the economy, e.g. halal food, IT, pharmaceuticals and engineering, etc sectors.
LCCI Senior Vice President Mian Rehman Aziz Chan and Vice President Haris Ateeq said exports to potential markets like Africa, Central Asia, Iran and Russia cannot be increased due to lack of banking channels and other alternative arrangements such as barter. SBP and other competent authorities should be requested to take special measures in this regard.
Mian Nauman Kabir said Pakistan desperately needs to improve the export competitiveness of its SME sector. The main issue to be addressed was the problem of insufficient access to finance for SMEs, as their share in credit to the private sector was less than 6%. Better supervision of the SBP should be ensured on commercial banks and oblige them to create more financial space for SMEs.
He said the tax base was still around three million taxpayers, translating to one of the lowest tax-to-GDP ratios in the world. Industry bore the heavy burden of taxes while the contribution of agriculture and services in tax collection was not proportional to their share in GDP. Broadening the tax base to various sectors of the economy, especially services and agriculture, was the only way forward.